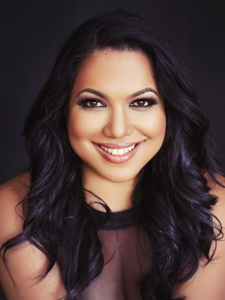 NAME: Maelan Abran
HOMETOWN: Honokaa, Hawaii
WHAT DO YOU DO WHEN YOU'RE NOT AT WORK:
Play music, write music, listen to music, sing, read, cook, shop
HOBBIES: reading, writing, photography, instagramming, cooking, baking, shopping, traveling
FAVORITE MUSIC: Seriously, I am a lover of all music. When I say all music, I mean from Jazz, to Pop, to classical, to alternative and everything that has rhythm and melody. What I listen to depends on the vibe I am in at the moment.
PETS: I live on a farm. A real farm with hogs, cattle, horses, chickens, dogs, cats and some geckos. Oh, and I also have a pet betta fish named Ferdinand.
FAVORITE FOOD: HAWAIIAN… all day everyday. I Aloha Poke too!!! oh and my Mom's food especially her Pasteles!!!!
FAVORITE BEVERAGE: Still trying to convince myself that its water.
FAVORITE COLOR: Black
FAVORITE CD: The one I created called "A Little Closer" there's a song on there called "Irresistible" that was the first song that I wrote that made it onto radio and was a number one song for a while. That song was also my first TV Sync Placement on a show called Sleepy Hollow. I'm forever grateful for that experience.
FAVORITE ARTIST or BAND: It depends on the day of the year, it totally varies but I know I will never stop loving BOB MARLEY!!!
MOST FAMOUS PERSON I'VE MET: Hmmm. Jason Mraz, Kenny Loggins, Danny Trejo
REASON I WORK IN RADIO: I Love Music and I was curious about how it works.
WHAT WOULD SURPRISE LISTENERS THE MOST ABOUT YOURSELF?
I LOVE TO SING!!! I am shy, like really shy, at first. But when I warm up to you, look out!!! lol….. also, I still collect matryoshka dolls, I am a songwriter, and play the piano. I listen to music almost all day long, I could read a book if its a good one from front to back, in a day or two, depending on how long they are and if time permits me too. I don't like to Parallel Park. I love to travel!!! I celebrate my birthday all month long…. JANUARY is my month and I am an AQUARIUS!!! I am short like five feet tall. I don't like wearing slippers cause of my height oh and standing next to super tall people isn't fun. I am also kind of addicted to social media…. especially instagram you can find me on IG @maelanmusic lol…..